Artists Teague Jim and Carolyn




" Quality Fine Art , Originals and Reproductions "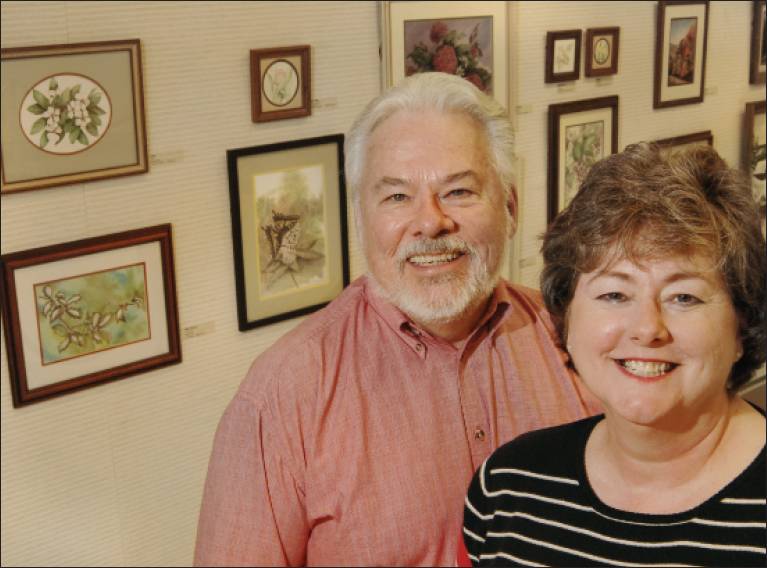 Newspaper Articles
June 21, 2007 - The TImes News
Partners in life and art
Married artists rely on each other for feedback and inspiration
By Jeff Wirick Times-News
jeff_wirick@link.freedom.com


MEBANE — If Burlington's Carolyn Teague wants a critical eye on one of her paintings, she doesn't have to go far — just across the living room. That's where her husband, Jim Teague, can offer suggestions.
"I think that kind of feedback has been really beneficial to both of our work," Jim Teague said. The Teagues have been painting together for more than 30 years and it's often reflected in the pieces they produce. They both prefer to work with watercolors, although they've been experimenting recently with oils and acrylics. They have also developed an impressionistic style.

The retired couple has been busy in recent months. Their latest exhibit of 25 paintings, found at the Mebane Arts and Community Center, 622 Corrigidor Drive, Mebane, runs through July 23. They also have pieces on display at the Burlington Artists League Fine Arts Gallery at Burlington Square Mall and the Caswell County Civic Center in Yanceyville.

For all their similarities, the couple's paintings vary slightly in subject matter. Jim said he enjoys painting landscapes and seascapes. One of his pieces at the Mebane Arts and Community Center is of the Cape Lookout Lighthouse — the first in a series of paintings Jim said he hopes to do on North Carolina's lighthouses.
"I grew up in the western part of North Carolina, in the mountains," he said. "And I seldom got to the coast. So when I
got to the coast, I was just really entranced with it — with the calmness and beauty and tranquility of it. "So a lot of these paintings are done from memory of the sights and sounds that I try to recall and put on canvas and paper."
Carolyn also likes to focus on nature, but she prefers painting flowers.
"I just love flowers," Carolyn said. "My whole backyard has flowers in it … I'm very fond of daisies."
Photos by Peter Schumacher / Times-News Jim and Carolyn Teague pose in front of their works on display at the Mebane Arts and Community Center on Corrigidor Drive in Mebane. The exhibit runs through July 23 at the center. Above is Carolyn Teague's painting called "Grapes," and at right is husband Jim Teague's painting of the Cape Lookout Lighthouse.
"So a lot of these paintings are done from memory of the sights and sounds that I try to recall and put on canvas and paper." She said her favorite painting in the collection is titled "Blue Hydrangea." Jim retired in 2005 after teaching drafting classes for 27 years at Western Alamance High School. Carolyn retired from the Burlington Social Security office in 2000, so the couple spends most of its free time painting and promoting art in Alamance County. Jim is serving his second consecutive term as president of the Burlington Artists League, an organization in which he and Carolyn were founding members more than 30 years ago. Carolyn served as past vice president for the league. "It's a wonderful thing that we can do this together," said Carolyn. The Mebane Arts and Community Center is open Monday through Friday from 8 a.m. to 5 p.m. and various other times. Check out www. artiststeague.com for more details.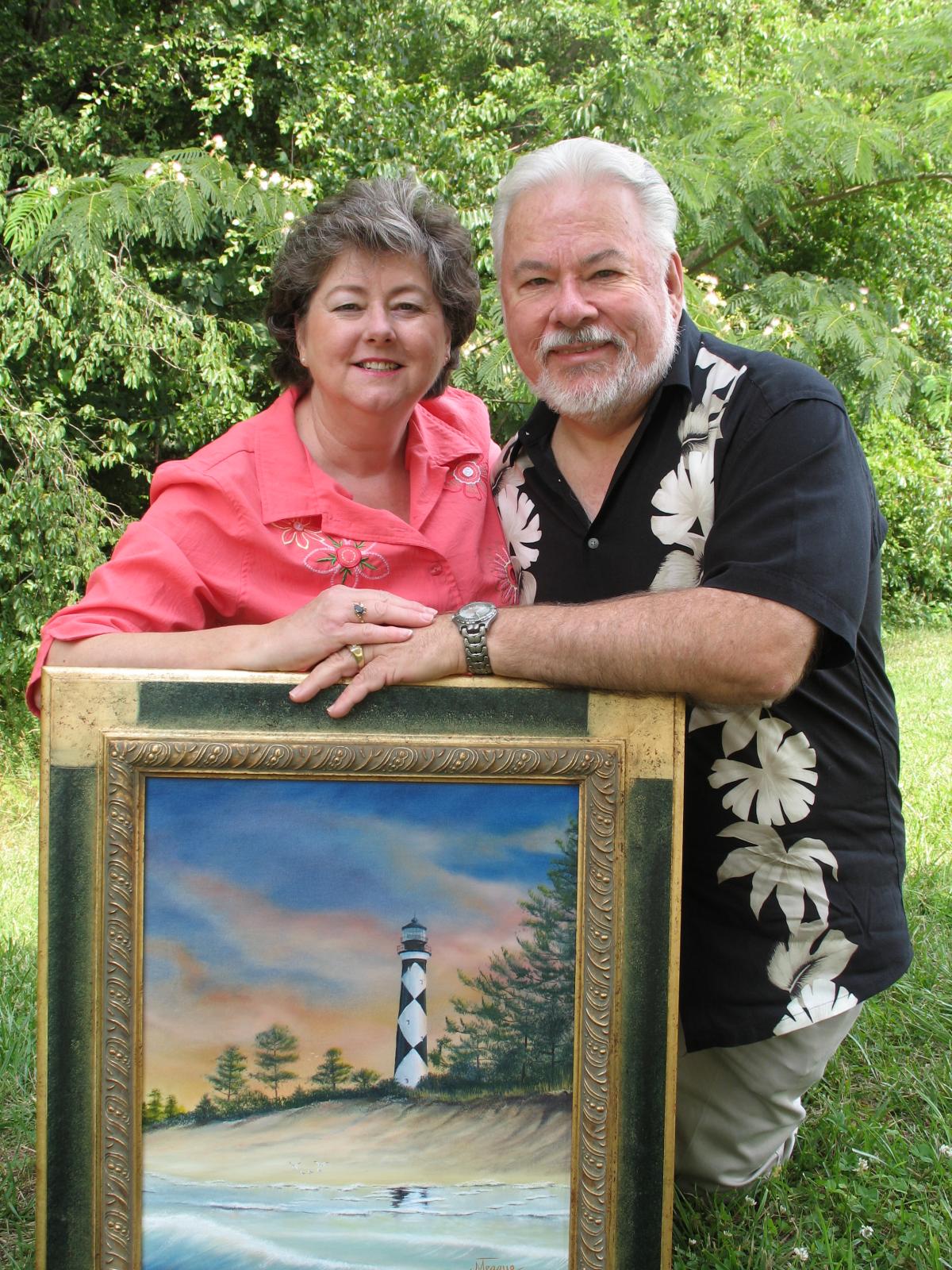 "Retired" Couple Turns Hobby into Business
By Sondra J. Casey
Carolyn Teague will paint anything that doesn't move.
If you are standing in front of her, she might paint you.
The Haw River native once worked at the Burlington Social Security Office as a claims representative. She began taking art courses years ago and developed a passion for painting.
Her husband, Jim Teague, a native of Franklin, worked for Western Electric as a design illustrator. He also drew bridge designs for the NC Department of Transportation. All his life, he has liked to draw and paint. "Whenever there were drawings to be made, I was usually called on to do it," he says. He studied architectural design at NC State.
The Burlington couple has been married for 36 years. Recently retired, they have turned a love of painting into a business called CJ Merchandise Gallery. They have original paintings and reproductions for sale through their web site and simply by calling them.
Carolyn focuses on still lifes, especially florals. "I like to try to create on paper one of God's creations," she says. "I cannot make it like He did, but I like to get an impression of it. I like light, airy, soft, delicate paintings." Some of her most popular paintings include "Iris," "Blue Hydrangea" and "Dogwood." She especially enjoys contemplating the blank piece of paper before she begins. "It's a flat piece of paper, but with light and shadow, you can make it look three-dimensional."
Jim concentrates on scenery like landscapes and seascapes, painting mostly from memory and the emotions he feels when he looks at nature. "My paintings reflect my drafting training in the details and the preciseness," he says. "Seascapes and landscapes are relaxing to me. I can express my comfort in doing those. Most people, when they see them, can relate."
Some of his most popular paintings are "Cape Lookout Lighthouse," "Cullasaja Falls" and "Carolina Ocean View." He also provides house designs for people planning to build.
When the two travel, they take pictures of scenery, rather than each other. They adopt wild animals, and one of their favorite paintings is of an adopted squirrel named Butch. They collect rocks of all sizes for their lawn, and Carolyn covers a lot of them with painted designs. I like colors," she explains. "That just comes from being an artist."
"Painting has always been a hobby for us," Jim says. "It's never been the main focus of our lives until we retired." "Now we are trying to re-emerge, like a butterfly," Carolyn says.
Jim is president of the Burlington Artists League, and Carolyn is secretary. Their work is available at the Burlington Artists League Fine Arts Gallery at Burlington Square Mall. On July 21, the couple will be demonstrating their work at the Heritage Festival in Franklin. On Aug. 4, they will be demonstrating their paintings at Burlington Square Mall.
To order paintings or reproductions or for more information, please call Carolyn and Jim at 336-584-6888. Or visit their web site at www.ArtistsTeague.com.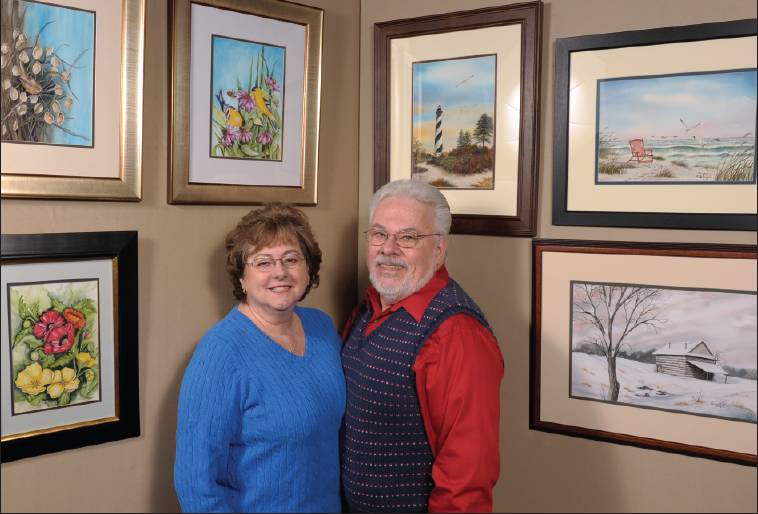 Teagues rely on life's memories to create artwork
By Charity Apple Times-News capple@thetimesnews.com
Artists Jim and Carolyn Teague are fans of each other's work. As the couple discussed their upcoming art show at the Burlington Artists League's Fine Arts Gallery recently, they complimented one another on their various styles and interests. "I can't do landscapes like Jim Teague can," Carolyn said of her husband. And he lovingly remarked on her ability to beautifully illustrate animals and nature, whether it be birds or flowers.

Every 15 months, members of the Burlington Artists League are eligible for Artist of the Month at the gallery and March will be the Teague's turn. Carolyn said in the last 15 months, the couple has been getting ready for this show. Originals, along with signed and numbered prints, will be available for purchase during an opening reception from 2 p.m. to 4 p.m. Sunday at the gallery. The artwork will remain on display through March 31. The show is titled "Teague's Treasures" and it includes landscapes, seascapes and still lifes, in both oils and watercolors. "Most of our paintings evoke memories of places or events in our lives," Jim said. "And we've found that other people have similar connections to our work."

Jim and Carolyn Teague are the proud parents of two grown children, Susan Reed and MitchellTeague, and grandparents to two grandchildren, Jaelynn Shoemaker, 7, and Kendall Reed, 16 months. The Teagues have been involved in and interested in art since their children were small. Carolyn recounted the times she and Jim took part in the former Arts 'Round The Square event in downtown Graham; Susan was in a bassinet and Mitchell was a toddler. "We realized that we needed to back out of art for awhile," she said. "And devote more time to our children. It was just difficult to juggle both." Then they started talking about "when we retire, we'll have so much more time to devote to art," Jim said with a laugh. They both rolled their eyes. Even though Carolyn, a native of Haw River, has since retired from the Social Security Administration and Jim, a native of Franklin, retired from the Alamance-Burlington school system as a drafting teacher, they stay busy, painting and exhibiting their work. Besides the BAL Gallery, their work also is on display at The Tuscany Grille in Burlington, The Carousel Collection in Burgaw, Artisans on Main in Franklin and Blue Moon Gallery in Wilmington.

It wasn't until recently, the Teagues said, that their son, Mitchell, acknowledged the talent both his parents have. "He said to us 'Mom and Dad, you are both so talented. Where did you get this talent?' " Jim said. After thinking back, Jim said it was his older sister, Doris Mottinger, who encouraged him to pursue art. And teachers also would call on him to help prepare bulletin boards. The couple is trying to instill this same passion in their grandchildren. Although Kendall is too young right now, Jaelynn has her own watercolor set and uses card stock to paint on. "She knows the basics of watercolors," Carolyn said. "If I'm painting, well, she's got to have some paint, too." Carolyn, who currently teaches a painting class at Alamance Community College, said teaching has definitely strengthened her own work "Honestly, if I didn't teach, I wouldn't get this done," she said of the upcoming show. "Teaching encourages me to meet those deadlines."


Sam Roberts / Times-News Carolyn and Jim Teague are
Burlington Artists League's Artists of the Month. A reception
will be held at 2 p.m. Sunday, March 7, 2010 at the BAL Fine
Arts Gallery in Burlington Square Mall. Call (336) 584-3005
for more details.